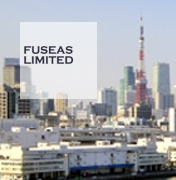 FUSEAS LIMITED
FUSEAS LIMITED provides friction materials, mechanical packings, sealants, heat protection and insulation textiles, composite materials, ducts, bellows, safety apparel, and marine fittings. Our full range of FUSEAS BRAND manufactured products has been providing solutions to satisfy our clients' needs for 55 years. Our unequaled value at competitive pricing is the industry's standard of comparison. And, our traditional Japanese attention to customer service is second to none. Moreover, we take great pride in our fully-scalable services, providing products to large enterprises and small businesses alike.
NEWS
21.June.2017 End of Product Sale Notices
We stop selling Composite Materials.